To Place an Order, Please use the Shopping Cart Method.  
Orders over $1000 receive a discount of 4% of the order amount.
Most orders are processed within 1 business day.     
Business Hours: Monday to Friday, 8am to 3pm PST.         
Prices are in Canadian Dollars
Case Prices are Wholesale
Email: sales@realrawfood.com
Call: 250-496-5215
Would you consider paying by check or email transfer? Small businesses pay huge fees to the banks and credit card companies to process credit card transactions. This will help keep our prices down.
If you find any of our products at lower prices we would like to know.
*NEW PRODUCT: Shilajit Extract Powder*
Miscellaneous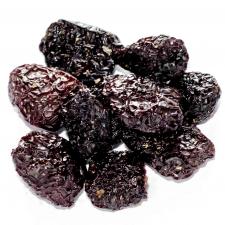 Certified Organic from Peru.
These jumbo ripe Botija Olives from Olivico Farm in Peru have been dried at low temperatures (below 110 degrees farenheit) and spiced with a selection of organic herbs: oregano, tarragon and thyme.
All the natural oil of the olive is intact, very juicy. This is a premium olive grown on the coastal desert plains of southern Peru. Ecologically cultivated, hand-picked & packed with extraordinary care. Dried Botija Olives are fermented first in a sea salt pond for 3+ months then rinsed, dried and seasoned.
$14.00