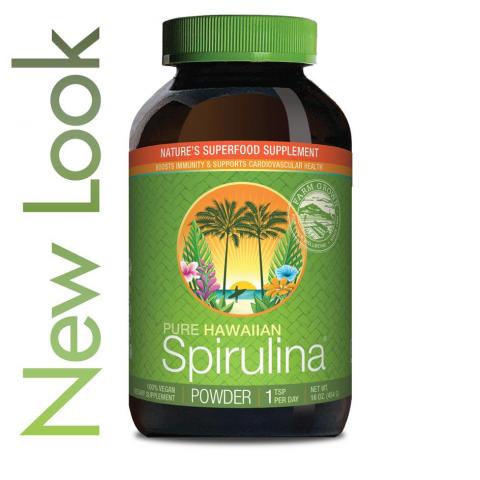 Pure Spirulina from Kona, Hawaii
Better than organic. Hawaiian Spirulina Pacifica® is a unique superior strain of Spirulina with the highest known nutritional content in the world. In fact it has more nutrition gram per gram than any other spirulina on the market! 
It's the only Spirulina cultured in a Biosecure Zone free of herbicides and pesticides on the sunny Kona coast of Hawaii. Hawaiian Spirulina Pacifica thrives in ponds fed with 100% fresh potable water from Hawaiian aquifers and pure, deep ocean water drawn from 2000 feet below the surface of the Pacific Ocean. This ultra-pure, deep ocean water enriches Hawaiian Spirulina Pacifica with 94 trace minerals and is a unique natural resource used in our patented Ocean Chill Drying™ technology which ensures maximum nutrient potency.
It's all natural, 100% vegetarian, Kosher Certified, and Non-GMO.
Contains 60% protein and is an excellent source of vitamins A, K1, K2, B12, and iron. It is also a source of health-giving phytonutrients such as carotenoids, GLA, SOD, and phycocyanin. One serving of Hawaiian Spirulina has the equivalent of 5 servings of fruits and vegetables and more nutrition than any other single whole food!
For more info: Spirulina Book 
$55.00