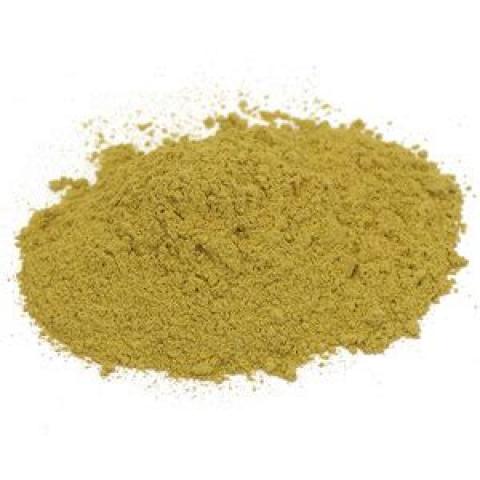 (We now carry this in place of Berberine)
Barberry Root Powder comes from the root and bark of the barberry bush (Berberis vulgaris).
Historically cultivated for its tart berries for culinary use, barberries were traditionally used in pickled dishes, jams, candies, and more. The root itself was used to make antipyretics, tonics, and other natural medicines. Due to its bitter flavor, however; it was typically used to make yellow dyes.
Uses and Dosage:
Native Americans originally taught settlers barberry's value as a medicinal herb. The ancient Egyptians used it in combination with fennel seed to ward off plagues while it was used to treat dysentery in India.
European herbalists have used it to treat gallbladder and liver problems, while healers in Russia used it for inflammation, high blood pressure and abnormal uterine bleeding.
According to a scientific article published in 2019, barberry's compounds "have a strong impact on human health and can be used as a painkiller, as well as for the relief of fever, diarrhea and vomiting. They are also useful for curing liver and vascular problems and preventing many diseases."
Barberry is available in capsules, fluid extracts, tinctures and as a topical ointment. The dried roots can also be used in tea, and its extracts are standardized to contain 8 percent to 12 percent alkaloids (berberine).
Currently, there is not enough scientific information to determine an appropriate range of doses for barberry.
For children, it should only be used under the supervision of a qualified health care provider, if at all. For adults, it's traditionally used at a dose of two grams three times daily or an equivalent amount in extract form. 
It's not recommended for long periods of time (more than a week) without the supervision of your doctor.
Risks, Side Effects and Interactions:
People using normal and appropriate doses of barberry don't generally report any negative side effects. With high dosages, possible side effects may include nausea, vomiting, diarrhea, dizziness, fainting, nosebleeds, low blood pressure, decreased heart rate, and decreased breathing.
Berberine is not recommended for very young children. In infants, it can interfere with liver function and might worsen jaundice.
Pregnant women should not take it because it may cause uterine contractions and trigger miscarriage. Barberry is also not recommended for nursing mothers since the berberine can be passed to the infant this way.
Barberry should never be taken at the same time as cyclosporine. Other drugs it may negatively interact with include medications changed by the liver including lovastatin (Mevacor), clarithromycin (Biaxin), indinavir (Crixivan), sildenafil (Viagra), and triazolam (Halcion).
You should also talk to your health care provider before combining barberry with anticholinergic drugs (drying medications), antihypertensive drugs and antidiabetes drugs, anticoagulant/antiplatelet drugs, sedative medications (CNS depressants), and some cholinergic drugs used for glaucoma, Alzheimer's disease, and other conditions.
Barberry might decrease the effectiveness of antibiotics in the tetracycline family.
In general, if you take any other prescription medicine, non-prescription medicine or supplements, check with your doctor before taking it. If you have any chronic health issues, such as liver problems or diabetes, check with your doctor before consuming any barberry supplements.
Berberine:
Berberine is a yellow alkaloid found in goldenseal root, barberry bark, Oregon grape root and coptis (goldthread) root. It has been shown to:
• Exert significant beneficial effects on digestive health and the microbiome.
• Improve type 2 diabetes on par or better than conventional drugs including metformin. • Improve blood lipid levels better than statins.
• Lower blood pressure in many subjects as well as any class of anti-hypertensive medication. • Improve liver function and promote anti-obesity effects.
• Produce very encouraging experimental data in a wide range of modern health issues including cancer, Alzheimer's disease, Parkinson's disease and others.
One of the clearest indicators of how berberine affects the microbiome is its effectiveness as a useful remedy for occasional diarrheas caused by several different types of parasites and infectious organisms. Berberine has also been shown to be effective at fighting harmful microbes, even over conventional antibiotics. It exerts a selective antimicrobial action by targeting a wide range of harmful organisms, yet leaves health-promoting bacterial species such as Lactobacilli and Bifidobacter species alone. This is good for the gut.
Berberine and Curcumin Herbal Superstars
Other Ingredients: None
200 -730mg vegcaps
$36.00