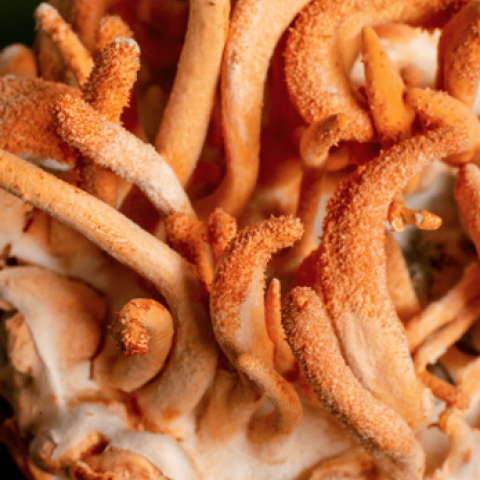 Certified Organic Cordyceps Mushroom Powder from Canada.
Grown in Pemberton, BC, by Stay Wyld Organics.
Cordyceps has long been considered the best mushroom for athletes, even if your sport is springing out of bed and tackling the day. The power of Cordyceps stems from its ability to improve the body's oxygen use, blood flow, and the adrenal glands' production of a variety of hormones like adrenaline and cortisol. It is also rich in adenosine and amino acids necessary for the production of ATP. 
All of this translates into the energy you need all day. And all night too—Cordyceps was traditionally used to address issues of libido and sexual performance. If you're looking to kick-start your physical life, Cordyceps is the medicinal mushroom that'll help you stay wyld and energized.
Stay Wyld Cordyceps mushroom powder is a blend of mycelium and bright orange fruit bodies. Our Cordyceps powder is ground, steamed, and dried to medicinal perfection. Add a Cordyceps medicinal mushroom boost to smoothies, juices, coffees, and foods.
Recommended dose: Adults: Take up to 1 teaspoon per day. Tsp = 2800mg
Medicinal ingredients: Organic Cordyceps (Cordyceps militaris - whole mushroom)
Benefits may include:
Adrenal Boost
Blood Flow & Oxygen Optimization
Hormonal Regulation
Vitality & Endurance Aid
Heart & Cardiovascular Health Promotion
Immune System Boost
$32.00