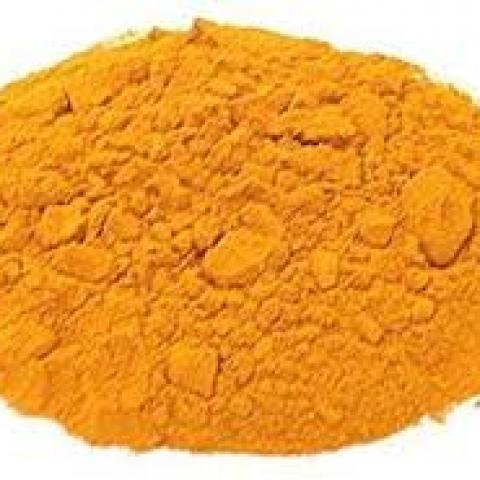 95% Curcuminoid extract with piperine. Curcumin is a yellow pigment present in the spice turmeric that has been associated with antioxidant, anti-inflammatory, anticancer, antiviral, and antibacterial activities as indicated by over 6,000 citations. In addition, over one hundred clinical studies have been carried out with curcumin. One of the major problems with curcumin is perceived to be the bioavailability. Absorbability is increased up to 2000 times with piperine added. This is good for the gut.        Pure cucumin extract with nothing added.
  Berberine. & Curcumin Herbal Superstars
This particular blend of Turmeric extract contains about 95% Curcuminoids, which themselves are about 70-80% Curcumin, 15-25% Desmethoxycurcumin, and 2.5-6.5% Bisdemethoxycurcumin. Otherwise, there are no kinds of fillers whatsoever.
This product is very pigmented and may stain some surfaces and fabrics-- in fact, turmeric is used as a fabric dye in some countries. Please use care when opening. Should you need to wash out a stain, acting quickly is important. Pre-treating the garment or surface with a white vinegar solution or baking soda is recommended. 
CURCUMIN SIDE EFFECTS
As long as the suggested serving size and daily values are adhered to, there should be no adverse side effects experienced by anyone interested in taking this supplement. Those that have gastrointestinal disorders or otherwise sensitive stomachs may experience a bit of stomach upset when first introducing Curcumin into their system, but this is not unexpected. 
Those that have a ginger allergy should speak with a medical professional before taking this supplement, as the two are closely related. Anyone that is on any medication that attempts to treat high blood pressure or anyone with erratic blood sugar levels should exercise extreme caution before attempting to use this supplement. Pregnant women and those that have blood-clotting problems or are on blood thinners should avoid this supplement altogether, as it may have an adverse reaction with the medication you are taking.
TIPS
Curcumin has a deep, yellow-orange color and a spicy taste. While some sources recommend that it be taken on an empty stomach, Curcumin is absorbed best when it has been cooked with oil, such as olive or coconut, or even butter. Its spiciness and vague ginger-like flavor make it a great seasoning for many dishes, especially basic ones such as white rice or other East Asian delicacies. It even works well when dissolved into hot tea as a flavoring.
This powder is best absorbed in a fatty solution. If cooking is out of the question or you just want to try something new, there is one drink that has a fat content that is just right for bringing out the true flavor and effectiveness of Curcumin, especially if taking the maximum daily serving level. This liquid is hot coconut milk. By mixing Curcumin in with coconut milk, this allows it to be absorbed easily by the body, and it also provides a delicious alternative to water. It goes well when taken with especially fatty meals.
$30.00