Digestive Enzymes - Smidge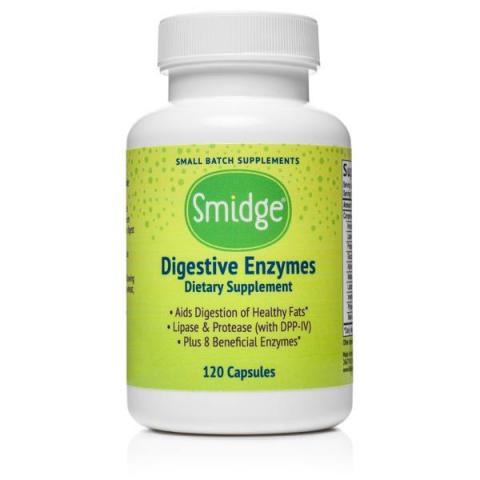 Same great product as GutZyme™ – NEW NAME!
Comprehensive mix of digestive enzymes that make eating a pleasurable, nourishing experience – with DPP-IV enzymes and much more.  DPP-IV enzymes offer a whole new promise of ease when it comes to digesting casein and gluten. Smidge Digestive Enzymes offer these revolutionary enzymes as part of a comprehensive digestive enzyme supplement. So you can relax – not worry – when eating a meal. This custom formulation is also especially helpful for people transitioning to a diet with more healthy fats, as it has three types of lipase that help digest fat. And Smidge Digestive Enzymes includes enzymes to help digest complex carbs in gassy foods like beans, cabbage and broccoli – and starchy foods like oats and rice.
Smidge Digestive Enzymes are great to have on hand when you're traveling, attending parties, or in environments where you don't have control of the ingredients in the food.
* Gives you the enzymes that support in the digestion of carbs, vegetables, protein, fats and sugars: Amylase, glucoamylase, invertase, lactase, maltase, alpha-galactosidase, beta-glucanase, phytase, lipase, and protease peptidase complex.
* Gives you three different types of lipase, providing 500 FIP (Fungal Lipase International Standard, or 1 unit of enzyme activity) for help digesting fats. Contains DPP-IV enzymes that may support the digestion of casein and gluten.
* Is encapsulated in a cellulose, vegetarian capsule. Is safe to open and ingest without encapsulation. Is free of the following common allergens: milk/casein, eggs, fish, shellfish, tree nuts, peanuts, wheat/gluten, yeast and soybeans.
* Does not contain artificial colors, flavors or preservatives. Does not contain HCL (hydrochloric acid) or pepsin.
Warning: Smidge Digestive Enzymes are not recommended for children under the age of 3, unless otherwise prescribed by a physician. For toddlers and sensitive adults, a smaller dose may be obtained by pulling apart the capsule, taking a small portion of the contents and mixing with food.   
Book: Enzyme Nutrition The Food Enzyme Concept by Edward Howell
$46.00