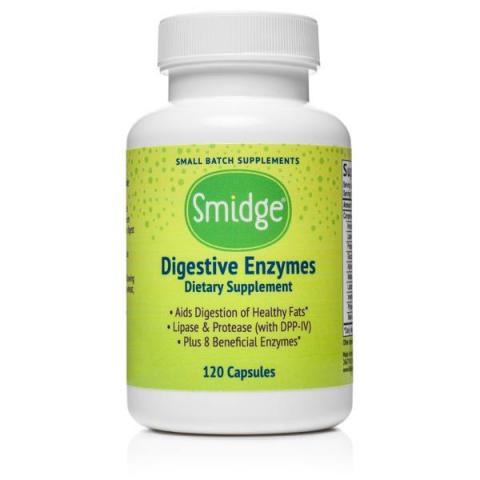 Smidge® Digestive Enzymes (formerly GutZyme™)
Supports nutrient breakdown/absorption 
Additive-free
Enzymes for fat, carbs, casein and gluten*
Non-GMO
Free of common allergens
Smidge Digestive Enzymes are a clean and comprehensive supplement to help you digest your food comfortably. So your body can absorb even more of the nutrients on your plate — without cramping, bloating, gas or constipation.*
And, if you're new to a real food diet rich in healthy fats (hello, fat bombs!), we've got your back. These enzyme capsules have three types of lipase that help digest fat. They also include enzymes to help digest complex carbs in gassy foods like beans, cabbage and broccoli, and starchy foods like oats and rice. Their DPP-IV enzymes support the breakdown of casein and gluten.
As always, Smidge® Digestive Enzymes are free of additives and common allergens, and made in small batches. Our customers say Smidge® Digestive Enzymes are a must-have travel companion. And good to tote to parties or dining out, where you likely won't know the ingredient list for those cute hors d'oeuvres.
Ingredients: Comprehensive Enzyme Blend (Amylase, Lipase, Protease Peptidase Complex, Glucoamylase, Alpha-Galactosidase, Maltase, Lactase, Invertase, Phytase, Beta-Gluconase)
Other Ingredients: Hydroxypropyl Methylcellulose, Water, Cellulose 
Warning: Smidge Digestive Enzymes are not recommended for children under the age of 3, unless otherwise prescribed by a physician. For toddlers and sensitive adults, a smaller dose may be obtained by pulling apart the capsule, taking a small portion of the contents and mixing with food.   
*120 vegetarian capsules (2-month supply)
Book: Enzyme Nutrition The Food Enzyme Concept by Edward Howell
$46.00