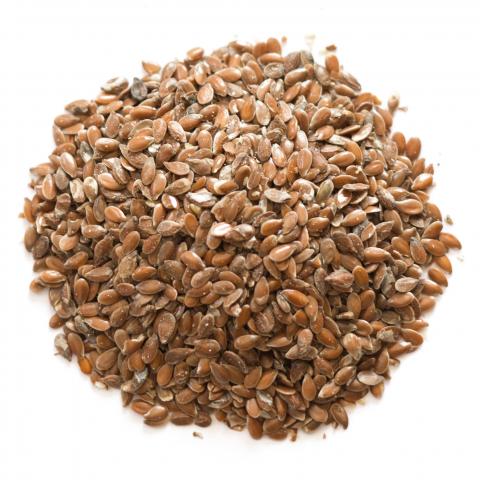 Certified Organic from Canada.
Flax seed is: gluten free, high in omega-3 and fiber, and tastes great.
Flax (Linum usitatissimum) is a beautiful blue flowered plant grown on the plains of Central Canada and the North Central United States. Modern research has taken great interest in flaxseed with study after study confirming that the oil and fiber components of flaxseed have wonderful health benefits.
Flaxseed has a high ratio of Linolenic (Omega-3) to Linoleic (omega-6) fatty acids. While many other plant seeds contain a higher ratio of omega-6 fats, flaxseed is the one of the few seeds that contains a much higher ratio of the essential omega-3 fats.
Flaxseed oil is one of the richest sources of OMEGA-3 fatty acid, Alpha-linolenic acid (ALA) an ESSENTIAL FATTY ACID (EFA). This fatty acid is considered essential, meaning that your body cannot make it but requires it and so must derive all of it from the diet. The average American diet is lacking in this fat. Supportive but not conclusive research shows that consumption of EPA and DHA omega-3 fatty acids may reduce the risk of coronary heart disease. One serving of Organic Whole Flaxseed provides 9 grms of EPA and DHA omega-3 fatty acids.
Flaxseed is unique in that 48% of its total fat content is omega-3 fatty acids.
Flaxseed contains very high amounts of DIETARY FIBER, both SOLUBLE and INSOLUBLE. Flaxseed is 28%-35% fiber, 1/3 of which is soluble, and the other 2/3 insoluble. Soluble fiber also plays an important role in maintaining the "good bacteria" in our bowel, like Lactobacillus Acidophilus and Bifidobacteria. Insoluble fiber increases the bulk of stools.
Flaxseed is an outstanding source of many essential nutrients, including: proteins, carbohydrates, minerals, folate, vitamin B-6, pantothenic acid, magnesium, potassium, iron, thiamine, copper, zinc, calcium and phosphorus.
PREPARATION & USE OF FLAXSEED
Flaxseed must be finely cut into a meal to get maximum benefits of the OMEGA-3 oil and dietary fiber. We recommend that you buy a coffee grinder and dedicate its use to grinding flax seeds. Once ground, the flaxseeds should be consumed quickly, as the oil inside the seeds oxidizes rapidly.
The recommended daily amount of flaxseeds to eat is about 1–2 Tbsp. The most beneficial amount for maximum nutritional value of ground flaxseed is 2 tablespoons daily. It can be mixed into 10–12 oz. of juice or water. Make sure you use plenty of water when adding flaxseed to your diet. Ground flaxseed can easily be added on top of dishes including: baked products, stir-fry dishes, soup or stews, cereal and yogurt.
Flaxseed is 35–40% oil so a similar amount may be omitted from any recipe requiring oil that also includes ground flaxseed. Similarly, about 1 Tbsp. of ground flaxseed steeped in 3 Tbsp. of water for 2-3 minutes will substitute for one egg in recipes. 
$4.50