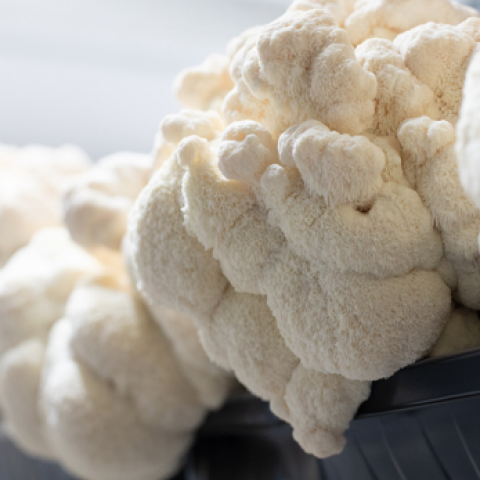 Known as "Lion's Mane," Hericium erinaceus mushrooms have been used for centuries in Asia for their ability to support brain function as well as their anti-oxidant and anti-inflammatory properties. Our Lion's Mane supplement is guaranteed to contain at least 250 mg of polysaccharides (50%) in every capsule.
Our mushrooms are harvested and then go into our steam room where they are steamed >90c for >2 hours. Then they go into the dehydration room and get micronized after they are dry. This to increase the bioavailability of the medicinal properties.
Canadian Grown and Produced, Certified Organic.
Recommended dose: Adults: 1 to 4 (500mg) caps per day.
Ingredients: Organic Hericium erinaceus *(mycelium, primordia, fruiting bodies, and extracellular compounds)
Non-Medicinal Ingredients: Vegetarian Capsule (Pullulan), 100% Organic White Milo (Growing Substrate)
Benefits may include:
Supports memory, focus, and concentration by stimulating the growth of brain cells
Antioxidant properties
The beta-glucans provides immune support
100-680mg vegcaps
$35.00