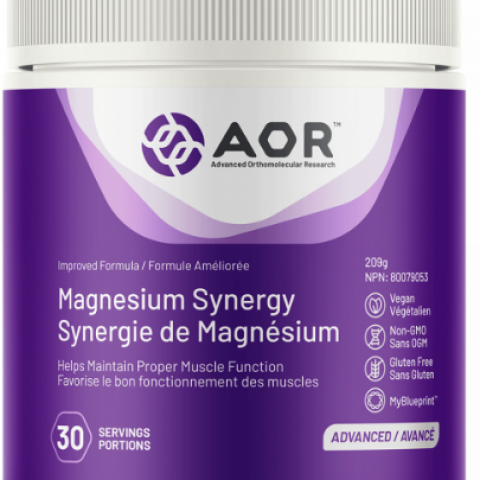 AOR Magnesium Synergy
Specially formulated to promote optimal absorption of magnesium into the cell, where it is needed the most, without negative side effects at therapeutic doses. This formulation helps in energy metabolism and tissue and connective tissue formation and provides electrolytes for the maintenance of good health while providing support for healthy glucose metabolism and the maintenance of healthy skin and immune function.
Magnesium Synergy is a factor in the maintenance of good health, helps the body metabolize nutrients and in the development and maintenance of cartilage, bones, and teeth. It is a source of antioxidants that helps to fight, protect cells against and reduce the oxidative effect of the oxidative damage caused by free radicals.
Medicinal Ingredients: Magnesium Malate, Magnesium Glycinate, Potassium Aspartate, Chromium Picolinate, Manganese Bisglycinate, Molybdenum (Na Molybdate), Zinc Malate, Selenium (Selenomethionine), Vitamin B6 (Pyridoxal-5-Phosphate), Copper Citrate, Glycine, Taurine
Non-medicinal Ingredients: sodium carbonate, citric acid, lemon flavour, maltodextrin, dextrose, acacia gum, tri calcium phosphate, monk fruit extract, dicalcium phosphate, silicon dioxide and sodium bicarbonate.
"After using many other forms of magnesium supplements I have found this product to allow better sleep and reduce anxiety." Moyra A.
$34.00