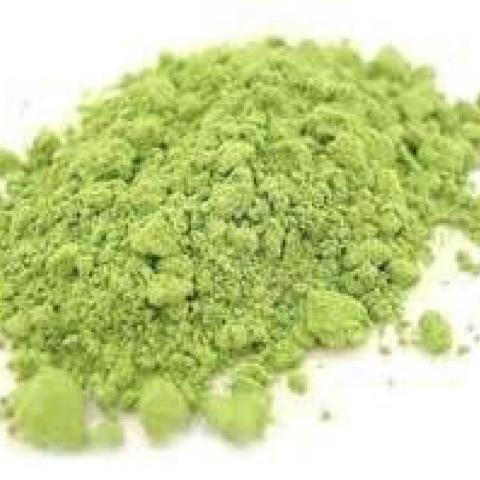 Certified Organic Green Tea from Japan
DōMatcha® is 100% authentic Japanese stone-ground green tea, directly from Kagoshima and Uji, Kyoto where Japanese matcha originated. Dō (pronounced 'doh') is the Japanese symbol for 'way' or 'journey'. DōMatcha® means 'The Way of Matcha'. 
DōMatcha® green tea is shade-grown and only the finest and youngest top leaves are chosen. Immediately after harvesting, the leaves are carefully steamed to prevent the enzymes from oxidizing, they are then placed in specially designed facilities at zero degrees to keep them fresh all year round. Before grinding the leaves into Matcha, all the rough fibers, such as stems and veins, are removed to reduce any bitter flavor. Some producers use not only lower grade leaves but also include stems and other rough fiber to get more volume and reduce the costs. Needless to say that these practices result in a Matcha that is a much lower quality product, less vibrant green, and leaves a bitter flavor. Once the leaves have been de-stemmed and de-veined, they are then slowly ground between traditional granite stones, guaranteeing maximum protection by breaking the fiber naturally without overheating and 'burning' the powder. Powdered green tea that is produced outside of Japan is turned into powder by using hot air pressure which destroys the natural structure and overheats the green tea leaves.
This matcha has a high nutritional value, including the unique properties of L-theanine and catechins (antioxidants). Scores 1384 on the ORAC test Oxygen Radical Absorption Capacity.
Benefits: Helps relieve stress, promotes natural weight loss, helps lower cholesterol, enhances memory, protects the liver and has anti-cancer properties. 
How to enjoy as a traditional whisked matcha. : Put ½-1 teaspoon of Matcha in a large cup or a drinking bowl and add a small amount of hot water (60-90ml – 2-3 oz). The ideal water temperature for DōMatcha is 80 C/ 176 F. Whisk in a quick, light zig-zag motion until a layer of green froth appears on the surface. After whisking, add more water if desired (up to 240ml/8oz). *Can also be used to make a latte, in a fruit smoothie, in raw desserts, or in baking!
*This powder is Silver Grade Matcha. 
$15.00