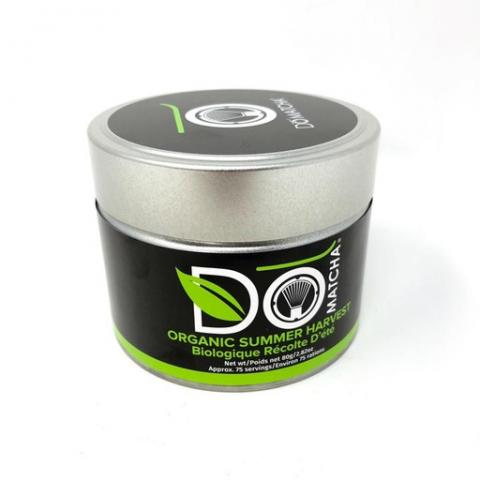 30% OFF! (Discount included in listed price)
(30g) Summer Harvest DoMatcha Green Tea from Japan.
(This matcha arrives inside vacuum-sealed steel tins which are sealed with a removable aluminum pull-tab lid. Inside, the matcha is stored in a Food Safe pouch, with a small oxygen-absorbing pouch in with the matcha.) 
DōMatcha® is 100% authentic Japanese stone-ground green tea, directly from Kagoshima and Uji, Kyoto where Japanese matcha originated. Dō (pronounced 'doh') is the Japanese symbol for 'way' or 'journey'. DōMatcha® means 'The Way of Matcha'. Paying homage to the traditional tea ceremonies of Japan, only the finest, youngest tea leaves are selected for DōMatcha® Ceremonial. It is made from young, de-veined and de-stemmed shade-grown tencha tea leaves that are slowly stone-ground into a fine powder. *De-veining and de-stemming the tea leaves is labour intensive but removes most of the strong bitter taste found in most other matcha powders.
This matcha has a high nutritional value, including the unique properties of L-theanine and catechins (antioxidants). Scores 1384 on the ORAC test Oxygen Radical Absorption Capacity.
Benefits: Helps relieve stress, promotes natural weight loss, helps lower cholesterol, enhances memory, protects the liver and has anti-cancer properties. 
Ideal to enjoy as a traditional whisked matcha. : Put ½-1 teaspoon of Matcha in a large cup or a drinking bowl and add a small amount of hot water (60-90ml – 2-3 oz). The ideal water temperature for DōMatcha is 80 C/ 176 F. Whisk in a quick, light zig-zag motion until a layer of green froth appears on the surface. After whisking, add more water if desired (up to 240ml/8oz).
Certified Kosher, Certified Organic in Canada, Certified Organic in the USA, Certified Organic in Japan, Certified Organic Internationally
30g for $17
$17.00