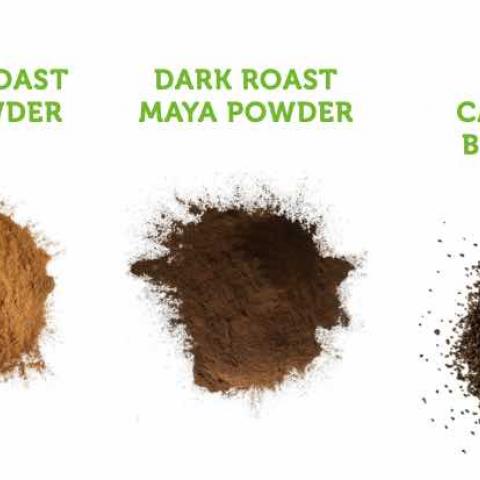 Wild Harvested Rainforest Food Also called Ramon Nut, Breadnut, Ojoche, Ojite, Ojushte, Ujushte, Capomo, Manchinga, Sande, Pisba waihka, Huje, Mojo, Ax, and many other indigenous names. Maya Nut is the seed of Brosimum alicastrum, a large tropical rainforest tree native to Latin America and the Caribbean. It is not a true nut and does not contain any allergenic compounds or alkaloids. Maya Nut is naturally caffeine and gluten free and has a neutral glycemic index. Maya Nut is vegan and paleo. It was once abundant throughout Central America but is now highly threatened and even extinct in parts of its range due to cutting for firewood and to plant corn. Maya Nut grows naturally in fertile rainforest soils. It is much higher in many vital nutritents including antioxidants than foods grown on farmed soils. Maya Nut is extremely high in Fiber, Calcium, Potassium, Folate, Iron, Zinc, Protein and micronutrients. Maya Nut has a low Glycemic Index (<55), making it a good food for diabetics or people watching their sugar and carbohydrate intake. As a food, it is extremely versatile and can be used in a wide variety of sweet and savory dishes. Maya Nut can be used fresh or dried, roasted or raw in over 120 recipes which have been developed by our staff and workshop participants over the past 10 years.  
Maya Nut Nutrition: Maya Nut is a highly nutritious food, rich in fiber, calcium, magnesium, potassium, folate, and antioxidants. It has been used by native people and traditional healers to treat a wide variety of ailments including colitis, arthritis, osteoporosis, asthma, infertility and lactation problems. Some of the scientific research that has been done on Maya Nut supports some of these claims, most notably about colitis and asthma because chemical studies of the roasted, ground seed have found that Maya Nut is extremely high in anti-inflammatory compounds that would effectively treat these conditions. The ratio of calcium to magnesium in Maya Nut is optimal for calcium absorption, which supports the local people's claims that it is good for arthritis and osteoporosis. Maya Nut has exceptional nutritional, culinary and storage qualities. It can be prepared fresh or dried in more than 100 recipes for drinks, bread, salad, cookies, soup, tortillas, sauces, desserts and much more.
The Seed: The fresh seed can be boiled and tastes like potatoes. It can be diced, mashed, ground or pickled to create delicious sweet or savory dishes. We have not yet discovered a means of packaging fresh Maya Nut to make it available in the US. If you are in the US and are fortunate enough to live in Florida, there are trees there and you may be able to harvest from them, contact us to find out more! The seed can also be dried, roasted and ground to use for baking, hot and cold drinks, sauces, or a condiment. Once dried, Maya Nut can be stored for more than 5 years with no adverse effect on its flavor, aroma, nutrition or appearance. Maya Nut cannot be eaten whole once it is dried, it MUST be roasted and ground to be edible. You cannot rehydrate or cook Maya Nut seed once it has been dried. Maya Nut is not a true nut. It has been tested and proven by the FDA to contain no toxic alkaloids or allergens. It is not affected by aflatoxins and is 100% gluten and caffeine free. It has a low (<29) Glycemic Index, indicating it is ok for diabetics or those on a low carbohydrate diet. The Maya Nut we offer for sale is always 100% wild harvested from natural rainforest. There is no plantation grown or cultivated Maya Nut available anywhere in the world at this time. We have planted (with our reforestation partners) more than 2 million Maya Nut trees which became productive in 2018.
Maya Nut Drink: For those who need or want to avoid caffeine, however, maya nut powder is a caffeine-free, nutrient-dense alternative to coffee that can be prepared in the same manner. The flavor is mild with notes of cinnamon or mocha; it does not have a bitter aftertaste, and it can be made hot or iced. Even though it is caffeine free, people report a natural energy boost after drinking Maya nut drinks. 
Medium Roast Maya Powder is our most popular and versatile product. Medium Roast Maya has a naturally delicious chocolatey, coffee, nutty flavor. Stir some into your favorite yogurt, cereal, baked goods or smoothies.
Dark roast maya powder has a rich, espresso-like flavor. We love it in chocolate baked goods, like brownies and cakes, homemade energy bars and hot and cold drinks.
No-Es Café is a courser grind of pure Maya seeds that can be brewed just like coffee. It has a rich coffee-like flavor without any of the caffeine!
Preparation: For an iced "latte": Pour your favorite nut milk, or water, in a glass. Add 1 scoop (33g) of the powder. Sweeten, if desired. Mix well (best if mixed in a blender or shaker bottle). Add ice and enjoy. For a hot coffee or tea: Add 1 scoop (33g) to hot water or steamed nut milk. Stir well and enjoy.
"I have found great intestinal benefits and I have lost weight and I have remained healthy throughout cold and flu season." -- Customer
"I love coffee and Maya is a great alternative. Great flavor!" -- Customer
 "The Maya Powder is terrific, and I use some in my shake every morning. The Maya Powder adds a great flavor! The dark roast works for me. Love it. Thanks." --Customer
$30.00