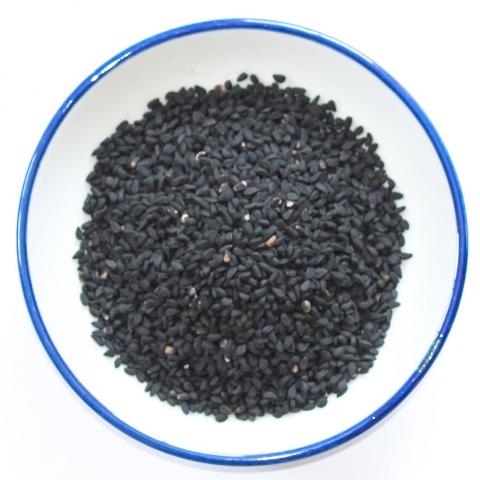 Certified Organic from India.
When it comes to versatility and the power of its health benefits, Nigella seeds (also called black cumin) stand above other botanicals.
A Long History of Therapeutic Use; The black seed of nigella sativa (black cumin seed) has been used for over three thousand years for preventing and treating many different diseases. In ancient texts and historical documents black cumin seed is noted for its therapeutic attributes and ability to support the body in its own natural healing processes. Archeological studies report that black cumin seed seeds have been found in several sites from ancient Egypt, including in the tomb of Tutankhamun. It has been revered as a beauty secret since ancient times as Queen Nefertiti, renowned for her complexion, was, a reportedly a devoted black cumin seed user. Ibri Sina, the Persian physician and philosopher, discussed black cumin seed in the text Canon of Medicine, considered a hallmark publication in the history of human medicine and used as the primary medical text throughout Europe until the 17th century. In it he states that black cumin seed has preventive and restorative features as it "stimulates the body's energy and helps in recovery from fatigue and dispiritedness."
 
What conditions can black cumin seed help address?
Cancer. Black cumin seed has potent anti-oxidant properties and these are thought to be behind the cancer prevention properties demonstrated in animal studies. In vitro and animal studies also show inhibition and reduction of tumor growth in various types of cancer including blood, breast, colon, pancreatic, liver, lung, skin, kidney, prostate and cervix. There are also demonstrated benefits as an adjunctive to chemotherapy in humans—for instance, black cumin seed shows a potential ability to decrease the incidence of side effects in children with brain tumors who are on chemotherapy. Its active component, thymoquinone, sensitizes brain cancer cells to chemotherapy, making treatment more effective.
Heart Disease and Diabetes. Black cumin seed favorably affects several parameters related to heart disease riskincluding lowering total and LDL cholesterol, reducing inflammation, lowering blood pressure, reducing plaque formation. It also reduces blood glucose, as well as diabetic-associated complications such as neuropathy.
Infections. Black cumin seed is a potent antimicrobial with the ability to fight bacteria, parasites, fungi and even viruses. It has demonstrated activity against methicillin-resistant Staphylococcus aureus (MRSA), the strain of bacteria that is difficult to treat and resistant to antibiotics. Black cumin seed even reduces viral load and improves other markers in patients with hepatitis C.
Neurological Conditions. Black cumin seed has been shown in in vitro and animal studies to be protective of neurological diseases such as Alzheimer's disease, depression, epilepsy, Parkinson's disease, and traumatic brain injury. Learning and memory is also improved in animals given black cumin seed. Anti-inflammatory and anti-oxidant properties are thought to be responsible for this effect.
Immune Disorders. Black cumin seed has been shown helpful in autoimmune disorders such as Hashimoto's thyroiditis and rheumatoid arthritis, and also allergic asthma, sinusitis, and eczema. For a deeper dive into the application of black cumin seed for asthma and allergy, evidenced by several human studies, you'll want to read our recent article by CDP colleagueSezelle Gereau, Functional otolaryngologist: Consider Nigella Sativa for Asthma and Allergy.
Pain. Black cumin seed oil, applied topically, is better than moderate dosing of oral acetaminophen (paracetamol) at reducing pain from knee osteoarthritis. Oral black cumin seed oil also has general analgesic effects, according to animal studies.
Weight Loss. Supplementation with N. sativa exerts a moderate effect on reduction in body weight, body mass index and waist circumference.
What Form to Take? Seed or Oil? And How Much?
In human clinical trials, dosages of 1-3 grams of black cumin seed powder has been used (orally) for up to 12 months. 2 months is recommended before checking on changes to cholesterol or blood glucose management. Black cumin seed oil is used orally at doses up to 5 mL or 40 mg per kg for up to 8 weeks for therapeutic effects. Topical use, for example for knee osteoarthritis, has included 1 mL applied locally three times per day.
Comparative Study on the Antibacterial Activities of Neem Oil, Mustard oil and Black Seed Oil Against Pathogenic Staphylococcus aureus, Klebsiella pneumoniae, Salmonella Typhi and Pseudomonas Aeruginosa
$11.00