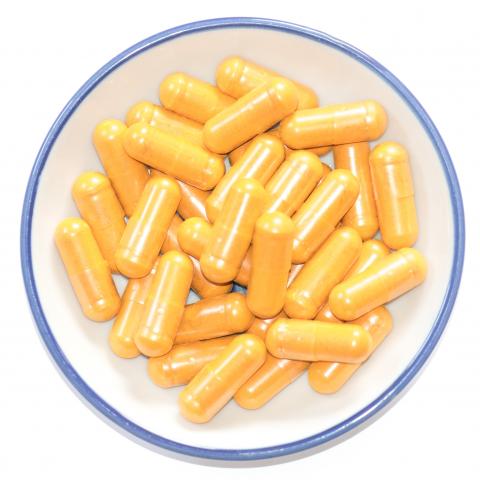 Anti-Inflammatory Formula for Pain Relief, joint helath and muscle recovery.
Concentrated Curcuminoid Based Formula with no additives. All-Natural & Begins Working In 45 Minutes! Use instead of Ibuprofen or Advil. This is a copy of a product called Relevit and is said to have helped many people with inflammation caused pain. Relieve gives anti-inflammation support, relieving pain quickly while also providing long term relief.
Ingredients:
DL-phenylalanine - D-phenylalanine has been used to help treat chronic pain, including pain caused by rheumatoid arthritis.
Nattokinase – Nattokinase is commonly used orally for cardiovascular diseases including heart disease, high blood pressure, high cholesterol, stroke, chest pain (angina), deep vein thrombosis (DVT), "hardening of the arteries" (atherosclerosis), hemorrhoids, varicose veins, poor circulation, and peripheral artery disease (PAD). In our case we use it to improve circulation for faster delivery of the other products in your system.
Boswellia – Boswellia Extract used for osteoarthritis, rheumatoid arthritis, joint pain (rheumatism), bursitis, and tendonitis. Other uses include ulcerative colitis, abdominal pain, asthma, hay fever, sore throat, syphilis, painful menstruation, pimples, and cancer. Indian frankincense is also used as a stimulant, to increase urine flow, and for stimulating menstrual flow.
Organic Turmeric – An orange-yellow compound, curcumin is the main curcuminoid found in turmeric, a spice that is often used to make savory dishes like curry.
Curcumin - may help to promote a healthy inflammatory response by aiding the body's immune cells, allowing them effectively doing their job. Turmeric Extract (95% Curcuminoids) – Curcuminoids are subparticles which make up curcumin. Curcumin has several of these curcuminoids and we have isolated one which is very specific for COX2 inhibition. We have been able to isolate 95% concentrated curcuminoids from curcumin that are approximately 100 times as potent as curcumin in reducing inflammation.
Organic Black Pepper Powder (Piperine) – Piperine Interacts with the intestine to allow for optimal absorption of turmeric and curcumin.
*Reccomended dose: 1-2 capsules twice a day.
100 (735mg) capsules
$35.00