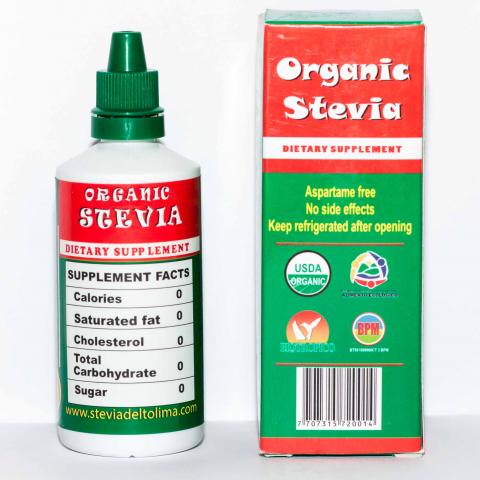 Certified organic from Columbia.
This product is not clarified, does not utilize chemicals in its harvesting nor in its transformation process in order to preserve all the beneficial phytonutrient properties that the stevia plant possesses.
Contains: stevia leaf, pure water & ascorbic acid and is not mixed with any other sweetener nor is it of chemical origin.. Does not taste metalic. It is important to use whole Stevia juice to get the health benefits. Please refigerate after opening.
Stevia is processed and marketed by others in three different formulations; powder, pill form and transparent liquid extract. In the first two formulations, their transformation into consumable form generally requires a content base of 93% maltodextrine and 7% stevia. Maltodextrine is a corn flour that is ultimately metabolized by the human body into glucose (sugar). Clear liquid stevia extract has been filtered using resins and chemicals in order to eliminate all color and taste attributable to the stevia plant which destroys all the beneficial phytonutrient properties of the stevia plant. 
STEVIA -EFFECTIVENESS AGAINST LYME DISEASE. Studies show stevia is antibiotic, especially against E. Coli and has an antifungal effect which is effective against Candida albicans.
$22.00