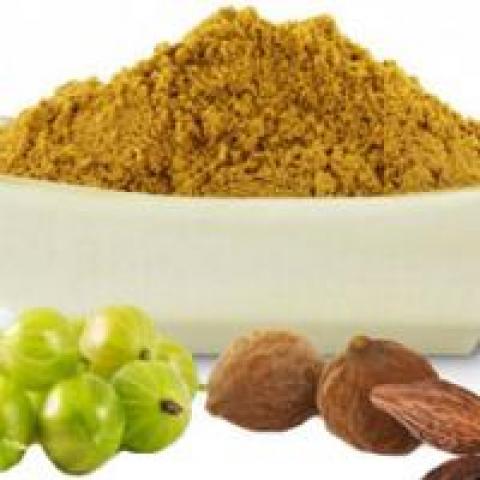 Certified Organic from India.
Triphala powder is an Ayurvedic formulation consisting of powders of three fruits, amalaki (Emblica officinalis), haritaki (Terminalia chebula), and bibhitaki (Terminalia belerica) in equal proportions. It is the most popular Ayurvedic herbal formula of India. Each correspond to the "three humours" or "tridosha" of Indian Ayurvedic medicine.
Benefits:
Triphala powder possesses powerful antioxidants and is a rich source of vitamin C. The antioxidants in triphala powder have been known to boost immunity and the combination with Vitamin C also helps your body in absorbing the nutrients effectively.
In traditional Ayurvedic medicine, Triphala is used for: Immune system stimulation, improvement of digestion, relief of constipation, gastrointestinal tract cleansing and relief of gas. Triphala has been reported to aid in weight loss. Preclinical studies have shown that Triphala is a potent free radical scavenger. Because of its high nutritional value, Triphala cleanses and detoxifies the body at the deepest organic levels without depleting the body's reserves. The active constituents are unknown. Triphala contains several compounds that have been proposed to be responsible for its claimed health benefits, including gallic acid, chebulagic acid, and chebulinic acid.
$12.00