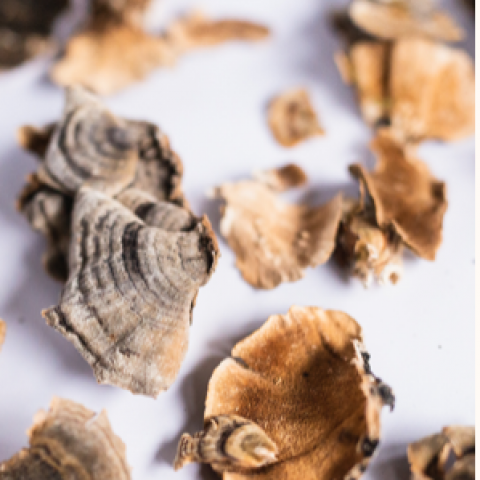 Certified Organic Turkey Tail Mushroom Powder from Canada. 
Grown in Pemberton, BC, by Stay Wyld Organics.
Turkey Tail (Coriolus Versicolor) is a mushroom that is loaded with health benefits and can be found in the wild on decomposing tree wood and stumps. To ensure you receive all the medicinal components from our mushrooms, we combine both fruiting bodies and mycelium. Unique to Turkey Tail are Polysaccharide Krestin (PSK) and Polysaccharide Peptide (PSP), which are used as medicine. The PSK and PSP in Coriolus Versicolor, also known as Trametes Versicolor, may help boost your immune system and slow down cancer growth. 
Turkey Tail mushrooms have been used to improve response to radiation and cancer medicines. In addition, these medicinal mushrooms are necessary for treating UTIs, fatigue, muscle strength, and other conditions. However, due to the high cost of clinical studies, there's limited scientific evidence to support the various uses and it is advised you consult your doctor before taking the mushrooms or supplements. 
Recommended dose: Adults: Take 1 tsp (2 g) or 1-4 (500mg) caps per day
Medicinal ingredients: Organic Turkey Tail (Trametes Versicolor - fruiting body and mycelium)
Benefits may include: 
Immune System Enhancement
Bacteria and Virus Defense
Gut Health
Healthy Liver Function
Energy Boost
Antioxidants and Vitamin D Source
$25.00