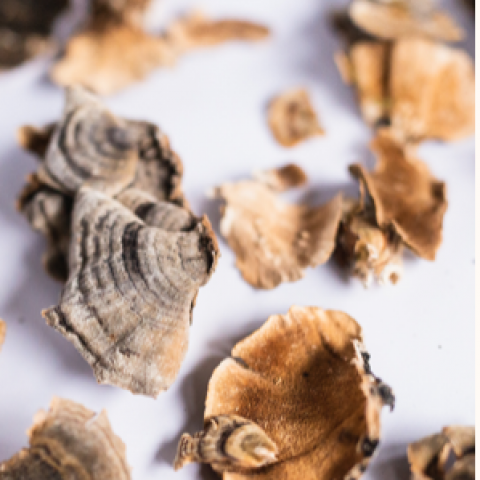 (90 vegcaps) Discounted 25% from $32
Turkey Tail – known as Trametes versicolor – contains a unique profile of protein/peptide bound polysaccharides that have been shown to support immune function.
Pure Turkey Tail™ is guaranteed to contain more than 300mg of polysaccharides (60%) in every capsule and is made by the world's largest producer of Full Spectrum medicinal mushrooms. Our bulk powder is Canadian Grown and Produced, 100% Certified.
Recommended dose: Adults: Take 1 tsp (2 g) or 1-4 (500mg) caps per day
Medicinal ingredients: Organic Trametes versicolor *(mycelium, primordia, fruitbodies, and extracellular compounds)
Non-medicinal ingredients: Vegetarian Capsule (Pullulan), Organic White Milo (Growing Substrate)
Benefits may include: • Provides intense immune system support • Supports healthy digestion • Has antioxidant properties • Supports healthy liver function 90-500mg vegcaps
$24.00