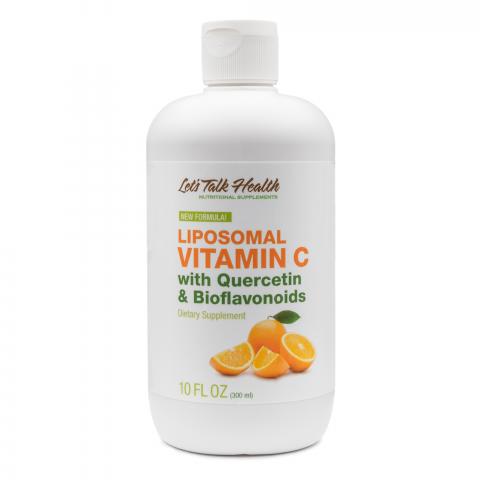 100% Certified Non-GMO Liposomal Vitamin C with Naturally Cold-Pressed Non-GMO Sunflower Seed Lecithin! NEW Formula with Quercitin and Bioflavonoids. 
We were one of the pioneers in the development of Liposomal Vitamin C. Our Liposomal Vitamin C has been our best-selling formula since we first introduced it six years ago. The reason is simple - Let's Talk Health Members and wellness clinics were seeing great results by increasing the absorption of Vitamin C in their bloodstream without the stomach distress.
The Combination of Vitamin C and Essential Phospholipids Radically Improves Cellular Bioavailability.
Utilizing a proprietary laboratory process, tiny particles of certified non-GMO vitamin C are coated with our specially sourced certified non-GMO sunflower seed phospholipids to create molecules of vitamin C coated with a substance similar to the cell walls. Because our cells and lecithin "carriers" are both fat and water soluble, it makes the vitamin c more amenable at a cellular level.
What Do The Experts Say: "I am a Certified Natural Health Professional and I absolutely love this formula - It absolutely WORKS! My family takes Let's Talk Health's Liposomal Vitamin C and I recommend everyone do their own research and educate themselves on liposomal vitamin c. Truly a wonderful product!!!" -- Debbi, C.N.H.P. from Pennsylvania.
*Vitamin C is water soluble making it more volitile than other nutrients. Please note that on occasion air pressure may build up in the bottle and be released when the bottle is opened. This does not affect the efficacy or potency of the formula.
Serving Size: 1 Teaspoon (4.9 mL) = 1000mg of vitamin C.  
60 Servings Per 10oz Bottle. Contains 1000mg Vitamin C, 100mg Quercetin/citrus bioflavonoids and 1200mg Natural Phoshatiidylcholine(from non-GMO sunflower oil extract) glycerin complex. Certified non-GMO Vitamin C (from sodium ascorbate and ascorbic acid) 
Landmark Publication on Vitamin C for COVID     Benefits of Liposomal Vitamin C with Quercetin & Citrus Bioflavonoids
$64.00