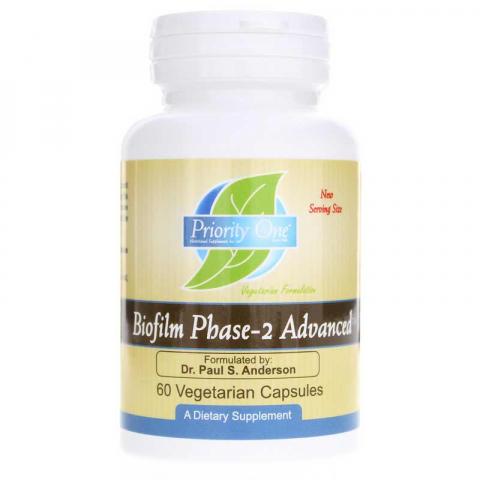 Biofilm Phase-2 Advanced™ by Priority One
A product formulated by: Dr. Paul S. Anderson and is specifically formulated for the disruption of advanced biofilms. Biofilms form and evolve from early ( Phase-1 weaker) to later ( Phase-2 stronger) forms. This supplement was formulated using the most recent scientific data on biofilm disruption in advanced (Phase-2) cases.
Recommended dosing is 1-2 capsules on an empty stomach with a full glass of water, four days weekly or as clinically indicated. Do not take more without consulting a Naturopath.
Ingredients: ALA, Black Cumin, bismuth subnitrate
Other Ingredients: L-leucine, rice chelate, silicon dioxide, vegetarian capsule (hypermellose, purified water)
WARNING: If you are pregnant or breast feeding, consult your physician before using this product.
WARNING: You may experience a die-off (nausea, headache, diarrhea etc) once the bad critters have lost their protective biofilm.
*While taking this biofilm buster we advise taking a herbal concoction such as ParaPurge and Atrantil that will kill the bad bacteria as it is being exposed and Gutpro probiotic to replant a healthy new flora. Many people feel relieve of their SIBO (small intestinal bacteria overgrowth) after removing the offending bacteria but later relapse to the old symptoms if they don't encourage the healthy biome.
60 vegcaps per bottle.
Biofilms Can Cause Infections That Won't Clear – What to Do About It with Dr. Paul Anderson 
There is a very good explanation of bacterial biofilms found here.
$49.00