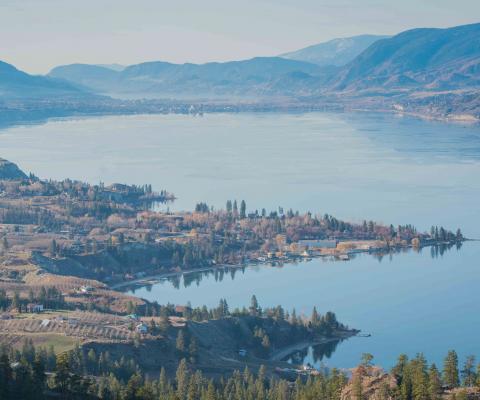 Just organic is not good enough.
We are a family business located in a small village called Naramata near the south end of the Beautiful Okanagan Valley in the heart of British Columbia, Canada.
Our purpose is to provide unheated, non GMO, pure organically grown foods at a fair price. That means paying more to the grower in some cases and selling lower to the consumer in most cases. To do this we go to the source. There we learn how the food is grown and processed to insure it is living food farmed ethically and sustainably. Most products are shipped directly from the producer to us.
These foods are what we want to eat but many of them just aren't to be found in stores, so it's symbiotic. Many foods that are called raw in stores are not. Some are dried at very high temperatures, some nuts are heated for shelling and often they are over heated by the sun while at sea in the shipping containers to over 170F. None of our whole foods have additives.
We are helping others as well as ouselves acquire the freshest and tastiest truly raw foods we can find. Quality doesn't need to be higher priced. By buying wholesale you can pay what the stores are paying.
We sell foods that have been grown in an earth-friendly and people-friendly way. Being growers ourselves allows us to appreciate what our suppliers do to provide such high quality food.
Our raw food items include:  honey, cacao, goji berries, vanilla beans, coconut oil, agave nectar, dried fruit, olives, almonds, pecan nuts, cashew nuts, walnuts, brazil nuts, organic dates, maca powder, sunflower lecithin, chocolate, spirulina and more.
UNNATURAL food is the principal cause of human degeneration. It is the oldest vice. If we reflect upon the number of ruinous dietetic abuses, and their immemorial tyranny over the larger part of the human race, we are tempted to eschew all symbolic interpretations of the paradise legend and ascribe the fall of man literally and exclusively to the eating of forbidden food. From century to century this same cause has multiplied the sum of our earthly ills.
   —FELIX L. OSWALD

The Dalai Lama was asked what surprised him the most; he said,
"Man, because he sacrifices his health in order to make money.
Then he sacrifices money to recuperate his health.
And then he is so anxious about the future that he does not enjoy the present;
the result being that he does not live in the present or the future;
he lives as if he is never going to die, and then he dies having never really lived"