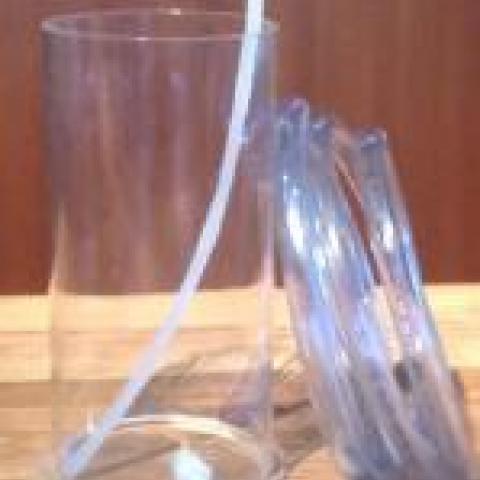 Made in Canada. The cup is made from 1/8" thick acrylic with a wide base so it won't spill when sitting on a shelf or it can be hung from a nail in the wall. The kit includes a 1.5 Litre cup, length of tube, a tube clamp and a very good insertion tip.
One of the best ways to regain good health and detoxify your liver and kidneys is to do regular coffee enemas. This kit helps make it easy.
In addition to removing toxins from the body, coffee enemas can:
- Clean and heal the colon
- Detoxify the liver and colon and help rebuild the liver.
- Reduce many types of pain.
- Help eliminate many parasites.
- Reduce and get rid of many symptoms of general toxicity. Since toxicity is the cause of dozens of common symptoms from arthritis to cancer, coffee enemas help with many, if not most diseases and conditions.
- Help with depression, confusion, and general nervous tension.
- Increase mental clarity, improve energy levels, increase joy and happiness, improve digestion, and reduce anger.
- Enable clients to get through difficult healing and purification reactions.
- At least three dozen clients have confided to me "coffee enemas saved my life".
Coffee for nutrition. In addition to its detoxifying effects, coffee contains numerous nutrients that appear to be helpful for people today. This, in part, accounts for why it is used as a common beverage around the world. Some of the nutrient benefits of coffee occur when it is used in an enema, as well.
Dr L Wilson has recommended coffee retention enemas to more than thirty thousand people and has have yet to hear about horrible side effects of any kind, although the procedure is somewhat inconvenient, especially at first. Most people get used to it quickly.
The coffee retention enema is really quite simple, very safe when done properly, highly effective, able to be done in the privacy of your home, and inexpensive. The use of a bidet toilet attachment can make cleanup easier and better, as well.
Daily coffee enemas should be a central part of all programs to regain full health.
$68.00