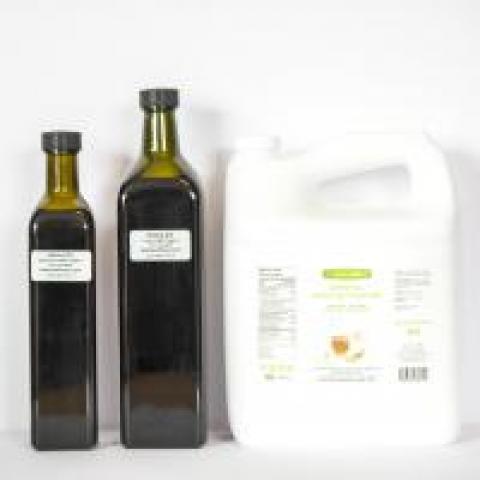 Certified organic, from Canada. Ideal 1:3 ratio Omega 3 & 6 Essential Fatty Acids with super EFA's: GLA, steriodonic acid, phyto sterols and Vitamin E... making hemp seed OMEGA OIL the ultimate good fat source. At over 80% concentration of EFA's, super charged with 480 mg/100ml of highest quality plant sterol super antioxidant, phytonutrients and naturally occurring GLA (total 4%) & Steriodonic Acid (which are precursors to DHA / EPA production, rendering the need for potentially contaminated fish oils unnecessary), chlorophyll, Vitamin A, Vitamin E, Tocopherols and Tocotrienols . Omega Oil has a rich nutty taste and provides natural sun protection properties. Omega Oil™ is extra virgin, cold expeller pressed hemp seed oil - the ultimate "good fat" source for humans and animals.
Recommended consumption is 1 tablespoon per 50lbs of body weight per day - maintenance. Increase with greater activity and stress.
Ingredients: organic hemp seed oil.
Take 1-2 tablespoons 1-3 times per day, add 5-10 drops of Defend - super anti-oxidant plant acids, and swish for 15 minutes, then spit it out.... for the ULTIMATE: teeth, gums, oracle cavity and BLOOD cleanser!
Over supply discount of about 60%. Date of production is July2019. Producer says it is good for another year.
$8.00