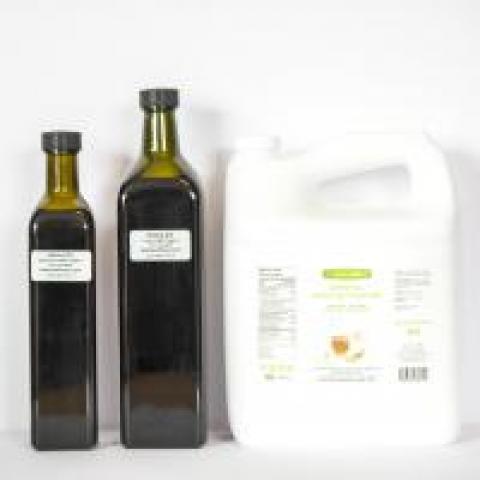 Certified Organic from Saskatchewan, Canada.
Cold-Pressed Hemp Oil has a light, nutty taste and is an excellent source of Omega-3 and Omega-6 essential fatty acids. 
Hemp contains an ideal 1:3 ratio Omega-3 to Omega-6, determined to be the optimum requirement for long-term healthy human nutrition. It also contains, in lesser amounts, GLA, oelic acid and steriodonic acid. This combination of essential fatty acids is unique amongst edible seed oils. 
Hemp seed oil also provides an adequate supply of antioxidants (Vitamin E), carotene (precursor to Vitamin A), phytosterols, phospholipids and a number of minerals including calcium, magnesium, sulfur, potassium, phosphorus, along with modest amounts of iron and zinc. Hemp seed oil also provides a good source of chlorophyll.
Benefits:
lower cholesterol levels
lower blood pressure
improve circulation
enhance immunity
increase metabolic rate
reduce inflammation
improve muscle recovery after workout
nourish dry skin and scalp
Recommended Daily Consumption: 1 tablespoon/per 50lbs of body weight, for maintenance. Increase with greater activity and stress.
Oil Pulling: Swish 1 tbsp for 10-15 minutes, then spit it out. It is amazing for the teeth, gums, oral cavity and as a blood cleanser!
$14.00