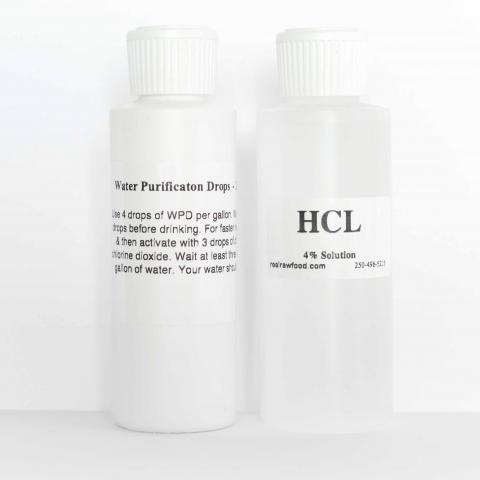 CDS (chlorine dioxide solution)
It is great for potable water treatment while camping, hiking, & survival when emergency drinking water is needed.  For more than 100 years, clinics and hospitals have used the active ingredients in this solution to sterilize hospital floors, tables, equipment, and other items. When mixed with citric acid it changes to a stabilized form of Chlorine Dioxide and becomes a powerful water treatment chemical & is recognized as a superior water disinfectant alternative to chlorine.  
Effective against viruses, giardia, e. coli, cholera, botulism, water bacteria and cryptosporidium. It also enhances the taste of water.  Its efficacy has been well documented in the laboratory, in pilot studies and in full-scale studies using potable & waste water. Chlorine Dioxide (CLO2) As a Non-Toxic Antimicrobial Agent for Virus, Bacteria and Yeast  
*Directions for use in purifying water: Use 4 drops of WPD & then activate with 4 drops of HCL acid. Wait at least three minutes & then add it to a gallon of water. Your water should be safe within the hour.  Please get informed before using for anything else Health Canada states: Health Canada is advising Canadians that using "MMS", also known as Miracle Mineral Solution or Miracle Mineral Supplement may cause serious health problems. The product information lists sodium chlorite as an ingredient and is promoted as a substance that can cleanse toxins from the human body. There are no therapeutic products containing sodium chlorite authorized for oral consumption by humans in Canada. These serious problems include poisoning, kidney failure and harm to red blood cells that reduces the ability of the blood to carry oxygen. Additional health problems may also include abdominal pain, nausea, vomiting, and diarrhoea.
:Sodium Chlorite powder, 80% ( technical grade).
For water treatment, food cleaning and surface sanitation. 80% is the highest concentration available for sodium chlorite due to the way it is manufactured. All sodium chlorite starts off as flakes but is usually ground up to make handling and measuring easier. A 28% (w/w) solution will produce 23% sodium chlorite concentration.
Sodium chlorite naturally has impurities; after dissolving in water a fine grayish sediment may slowly start to settle to the bottom – we recommend you let the solution settle for a few hours and then use the clear solution.
Warnings: Do not use full strength. Keep out of reach of children. Keep out of direct sunlight. Please do not store for over 6 months in original packaging, and do not store powder or solutions in metal containers. 
*We suggest storing in a glass container with a plastic lid.
Set Includes: One 4oz bottle of 28% sodium chlorite and one 4oz bottle of 4% HCL
$20.00